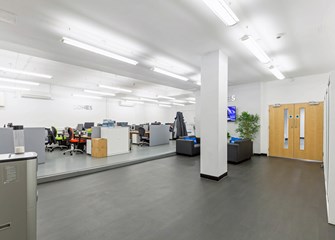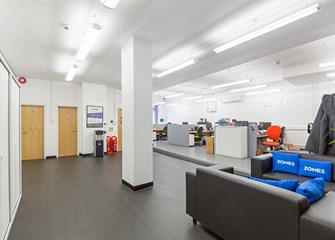 The self-contained space occupies the ground floor of this refurbished warehouse building and is currently split into two main linked open-plan areas, both of which have access to the main board room and there are two additional meeting spaces, a small private office and a server room. In addition there are private toilets and a kitchen. Large windows along the south facade offer natural light and there is good security. The space will be redecorated and it is planned to upgrade the lighting.
Accommodation
Ground Floor - 5,100 Sq. Ft. (Approx.)
Rent
£247,350 per annum exclusive.
VAT is payable on this rent
Service charge
Estimated at £10,000 pa.
Communications
The building is located just to the North of City Road on the corner of Westland Place and Ebenezer Street and stretches through to Britannia Walk. The main entrance to the space is opposite Jamie Oliver's Fifteen restaurant and this busy mixed-use area is otherwise well-served by many eateries, bars, clubs and amenities. The property is located outside the congestion-charge zone and the area is very well-served by numerous bus routes.