The Estate Office Shoreditch is proud to be counted among #shoreditchoriginals, this part of East London is place where we've been acquiring land and buildings since 1966. To mark our 50th year we've commissioned a new illustration by LeGun which you can see at the top of this page, and below we've taken a look back at some of the places, people and events that have defined the culture of Shoreditch since 1966.
The 60s
The London Borough of Hackney, Shoreditch and Stoke Newington merge to become today's Hackney. Once a hive of human activity with pedestrians and early motor vehicles dominating the cobbled roads, the mid-60s saw the main throughways of Old Street, Shoreditch High Street, Curtain Road and Great Eastern Street become a mile-long, one-way system. This idea was only to be dropped some 40-odd years later, when the gyratory, described as - "the main factor holding back the cultural regeneration of South Shoreditch" and "a block to economic recovery" - reverted back to its old ways.
Many of the buildings of Shoreditch lay empty, giving the The Estate Office Shoreditch's founders the opportunity to start investing in and revamping useful properties close to the centre of London. This was an era of cultural influence: punk rock musician 'Hoxton' Tom McCourt was born in Shoreditch and later went on to become one of the most influential members of the skinhead revival, the mod revival and the Oi! Movement. It was also in 1968 that the short-lived but revolutionary The Anti-University of London made 49 Rivington Street its home; experimenting with the darks arts of self-organised education way before the rise of the internet.
The 70s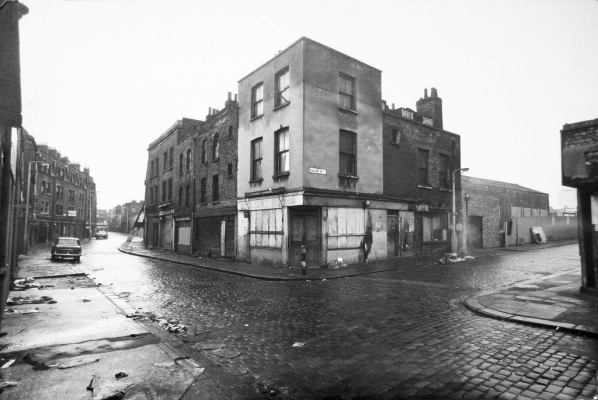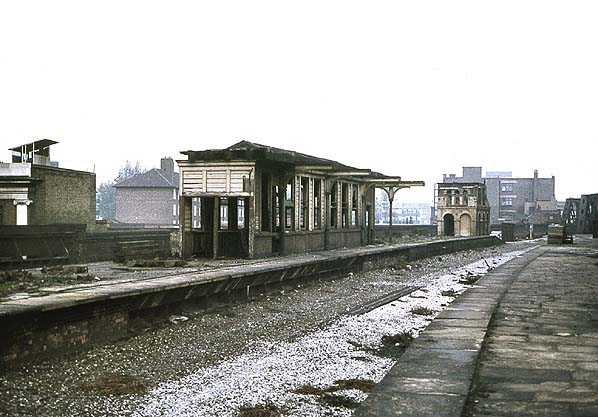 By this time the area was in a bit of a state, signifying wider damage across Britain; the economic situation was dire. Warehouses such as the Tea Building on Shoreditch High Street - originally a bacon factory for the Lipton brand in the 1930s - were being vacated and local stations like Shoreditch underground (opened in the 19th century by the East London Railway Company) were declining through lack of use and investment. There was even a binmen's strike in 1970 which left Hackney strewn with rubbish, and then again in 1979. The Haggerston community even opened their very own co-op to make food more affordable for locals in 1973, with the premises becoming a hub for neighbourhood activism before it was undercut and effectively shut down by an outraged shopkeeper. Not to forget the racially fuelled riots and anti-fascist demonstrations in a period of acute political and cultural change, with Brick Lane at the heart of it all.
To top it all off, there was a wave of hot summers that decade too. Somehow, resilient East Londoners still found time to lift their mood; parties started with punk rockers at open air concerts and ended as memories lost in secret basement parties, speakeasies, gay bars and clubs such as The London Apprentice. It was frequented by celebs such as Sir Ian McKellen and Freddie Mercury - who is even said to have landed his helicopter on top of the building.
The 80s
This was the decade that Shoreditch started making its comeback, as service led companies began taking over warehouses, triggering an entrepreneurial renaissance that's still ongoing. Widespread deindustrialisation meant visual artists, fashion designers and other creatives moved into Victorian factory spaces - slowly but surely facelifting the area and redefining the art scene. The suited and booted artistic duo, Gilbert & George, were early trailblazers; criticised for a graphic photo based series they made in 1986 (where some pictures seemed to hype the 'rough types' of London's East End while others bore racist titles), while in the same year winning the The Turner Prize. This was all happening in tune to an iconic music backdrop: pioneering the model for a community centred creative hub, Richard Boote opened The Strongrooms recording studios off Curtain Road in 1984 and it still stands there today.
This new economy undoubtedly made way for the future tech boom, with the remaining printing firms becoming the first adopters of desktop computers and some of them developing into web / design agencies - things.co.uk was a great example of this - the company purchased 68 Wallis Road in Hackney in 1973 for printing textiles and installed Apple Macs to generate art in 1983.
In response to the narcissism of punk, the 80s also saw an underground subculture of poetry and spoken word expressionism emerge, centred around the working class, in particular the West Indian community, with active cultural groups dotted around the borough of Hackney like Caribbean House at Bridport Place, Hoxton.
One of the most significant developments to impact Shoreditch in the 80s was a road build some 20 miles away. The M25, London's then new outer orbital motorway gave goods vehicles travelling to and from Dover a way of going around London meaning that Shoreditch's one-way system could revert to local traffic, the area becoming quieter and less polluted.
The 90s
According to local drag scene hero Jonny Woo, "In 1995 in a pub called the Bricklayers Arms in Shoreditch the world began". The social hub of burgeoning Shoreditch was the Bricklayers' Arms and by the end of the decade drinking culture had edged its way from day to night. The live/work spaces of artists and photographers often doubled as party venues with larger warehouses becoming semi-permanent rave spots, such as Four Aces (home to promoters Labyrinth and subsequently hosts to the likes of Prodigy) and Tyson Street in Dalston. The 90s saw London Apprentice change name (and clientele) to become renowned club and gig venue 333/Mother with the legendary Blue Note club just around the corner on Hoxton Square, playing host to genre defining nights Metalheadz and Athletico, amongst many others.
In amongst all this partying Fashion and Art had become the new local trades with Alexander McQueen relocating to a studio on Kingsland Road and Joshua Compston setting up the Factual Nonsense gallery at 44a Charlotte Road. Compston, part of the YBA group, established an annual fete, the Fete Worse Than Death, firstly in Hoxton Square and then Rivington Street. Damien Hirst turned up to flog spin-paintings for a pound each, Tracey Emin did palm readings and Gary Hume dressed up as a Mexican bandit selling tequila slammers. The area had become a hub of activity; a DIY urban catwalk. The film industry got in on the act with the classic Lock, Stock and Two Smoking Barrels tapping into the rough-and-ready, wild-east atmosphere of late 90's Hackney. All of this attracted developers and architects, as lofts, former theatres and railway arches came into high demand.
The 2000s
In 2005 it was announced there'd be funding for the East London Line Extension, that became the Overground which led to creating Shoreditch High Street: a portal for the rest of London and droves of tourists here to see an internationally renowned street art locale. Since the early noughties, Hackney's roads, pavements and walls have been stamped by the likes of Swoon and Banksy, cementing East London's reputation as the centre of creative industries and leading to the area and some of the locals becoming the object of parody in C4's series about dysfunctionally hip creative people, Nathan Barley.
Padded by bustling markets, studios and galleries including Jay Jopling's White Cube, the area was fast a hotbed for tech start-ups such as Last.fm and moo.com, Vice magazine and all manner of tech firms opened their HQs in a cluster around Old Street Roundabout, giving rise to the term Silicon Roundabout by the end of the decade. Towards the end of this decade the area was displaying a fierce momentum; the combination of improved transport, thriving creative and tech industries, many new bars, coffee shops, venues including XOYO and Village Underground as well as the appearance of clothes stores such as Present and Edwin meant that the area had become the destination in London for work and play.
Present day
The 21st century is well and truly here. It's the digital age and meetups, parties, conferences, trade shows, workshops, hackathons, festivals, you name it - it's the rage. The events market has triggered a pop-up phenomenon with food joints, roof-top parties and fashion boutiques making choosing where to spend a night out a bit like a game of whac-a-mole.
Spawned by competitiveness to be both cutting edge and original, Shoreditch will match your standard coffee shop and raise it by a milkshake bar, cat emporium and cereal café. Local comedian, activist and bohemian, Russell Brand, has even opened one; Trew Era is a locally sourced, organic, vegetarian café supporting local and ethical causes.
It seems for now that coffee shops and pop-up shops will keep opening, clothing brands, creative and tech firms will keep relocating to Shoreditch transforming the area. Not with the intensity of the last few decades, the number of empty spaces and opportunities that gives rise to has reduced, but Shoreditch will keep on changing physically and culturally and you can be sure that The Estate Office Shoreditch will be part of that future, at the heart of the progress of a truly unique part of east London.
We are #shoreditchoriginals