The centre of what is now Shoreditch, between the well worn tracks which became Shoreditch High Street and Old Street, was once farm-land. From the 18th century onwards, the gaps between filled in with buildings and roads, one of which was Rivington Street. As illustrated below, it only made its way on to a map in 1906 making it a relatively young part of the infrastructure that had a mature part to play in the area's working legacy.
Home to a significant group of buildings from the 19th and 20th century furniture and printing trade, this particular part of the East End made a an important contribution to that underlying narrative of hard graft, which continues on now. Still concentrated with the very same brick warehouses, repurposed into offices/workshops/showrooms, today the characteristically idiosyncratic Rivington Street hosts myriad start ups - from art galleries and bookshops to creative networks and comedy clubs. The street also has an artistic legacy, being the venue for A Fete Worse Than Death; Joshua Compston's take on an "artist's garden fete" in the summer of 1993. Attended by the likes of Angus Fairhurst and Damien Hirst, dressed as clowns and producing spin paintings curb-side, each sold for a pound. Yes, you read that right.
Here we take a journey down contemporary Rivington Street, walking from east to west and pointing out a few of the gems along the way, staring with Eine's hugely imposing SCARY street art which faces the entrance to Cargo.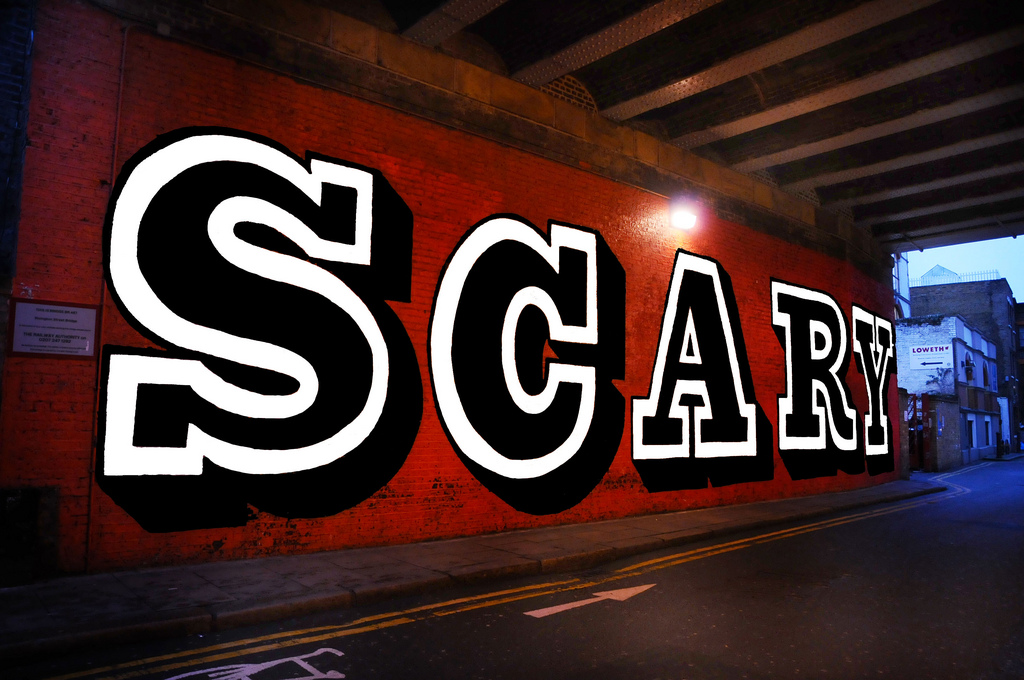 Shutterbug @ number 1 Rivington Place
Nipping down a the side street that is Rivington Place we find Shutterbug, an airy brunch spot and cocktail bar is also a crêperie: serving the traditional French dish all day long in sugary and salty iterations using excellent produce like salted caramel for the sweet toothed, and truffle oil for savoury lovers. There's an unmistakeable relaxed vibe here, made true by the stripped brick interior, weekend barbecues and ever present friendliness of staff like head barman, Andrea.
Shaken or stirred, he's a whiz at alcohol concoctions and puts it down to the teachings of co-owner, Tye. With a strong background in the drinks event industry, the entrepreneur has managed to bring a bit of NYC glamour to the grit of the East End: using an informal space, graphitised courtyard and a DJ from local record shop LoveVinyl to pull in a community of loyal punters.
"I'd love to do something with the Cha Time guys, they're new but I go in and see there bubble tea and want to experiment with tapioca and alcohol fusions – there's so much inspiration around here" - Tye, Shutterbug co-owner.
The Art Galleries: Iniva, RED, and CNB
@ Rivington Place, number 1-3, and number 32
The local culture of creativity is particularly strong on Rivington Street, where three art galleries co-exist, spoiling visitors with a diverse range of original works.
There is the five-storey high crystal-like facade of Rivington Place, a glass architectural masterpiece erected in 2007 for eight-million-pounds and the first publicly funded new-build gallery in London since the Hayward opened more than 40 years prior. Inside is a menagerie of debate and diversity, currently showing photographs of the Fifth Pan-African Congress of 1945 that condemned imperialism, racial discrimination and capitalism.
Then comes the RED Gallery, which plays host to a huge span of output from contemporary media practice, from exhibitions and events to live word and film screenings on an expanse of subject matter. It is steadily becoming an institution for neighbourhood talent; providing commentary on the community with retrospectives such as '20 Years of Acid House' and providing industry advice/funding sources for artists, organisations and collectives. Upcoming highlights on the summer roster include a look at Berlin from 1990 to 2000 when it was considered an auto-governed zone as well as an academic symposium on the art of stripping.
Last but not least is the CNB Gallery: residing under Mark Hix's Tramshed (which was the Shoreditch electricity station in 1905-7, servicing the London County Council tramway), it proffers a subterranean consideration of modern expressionism, aptly celebrating steak at the present moment with a meat inspired body of installations, photography, fashion and paintings.
YCN @ number 72
Established 14 years ago, YCN is still a unique network; focusing purely on joining people/organisations in the creative arena, from digital agencies and arthouse publications to well-known illustrators and emerging photographers. A members club, it facilitates easier access to talent sourcing, intelligence sharing, client introductions, community events, participation in awards for the relevant playing field, and the unearthing of endless research thanks to a curated library. Empowering its associates for around about the £100 mark for a whole year, it's pretty spot-on that YCN stands for You Can Now.
As well as being a complete and utter bargain, the street facing retail space sells all sorts of imaginative stuff (the in-house mag from upstairs, casually displayed alongside gorgeous scented candles, wooden watermelon slices and a giant slingshot) and is manned by a seriously lovely set of creatives that make up some of the YCN staff. Over the course of our explorations we met the fiery editorialist Beatrice, the charming fine artist Matt and warm and welcoming Jennie Webber: an 'etcher' recently featured in Wrap Magazine for her distinctive wildlife drawing classes. And we're not even members yet.
"There's such a buzz because there's a lot of activity and definitely a sense of community around here - considering how big London is, there seems to be a lot of familiar faces. I'm from Norwich where you all know each other and bump into each other twice a day, you have that kind of feeling here" - Matt, YCN intern.
Since 1875, this cluster of premises has been occupied by furniture manufacturing firms, continuing into the 20th century when the likes of Thomas and Robert Hollington moved in - their painted signage can still be found on the exterior walls above the Comedy Club's kitchen window.
While we British are renowned for our love of tea, the Cha Time franchise offers Shoreditch clientele a refreshingly quirky alternative to a national favourite. Swapping the British classic for a product invented in the 80s and exported from modern Taiwanese culture: Yung-Marc, or bubble tea. An ice-blended milk or fruit based brew, this liquid revitaliser comes infused with a choice of fragrance profiles and is further tailored to taste buds with a selection of tapioca balls and fruit jellies that sink to the bottom - only to be slurped up via a straw for a fun pop of flavour with every sip.
While the edible pearls are often served across London with a chewy texture, Cha Time's employees, Jade and Julia, are guilty of no such thing: freshly preparing them at opening and every four hours after that. Nicknamed bōbà in Mandarin, slang for large breasts, these drink condiments are made using completely natural ingredients and state-of-the-art kitchen tech to produce a high variety of iterations, from grass jelly and red beans to aloe vera and rainbow jams.
"We've been open for six weeks, but it's really nice here because we already have our regular customers and now we even know them by name" - Julia, Cha Time employee.
FIORENTINI+BAKER @ number 49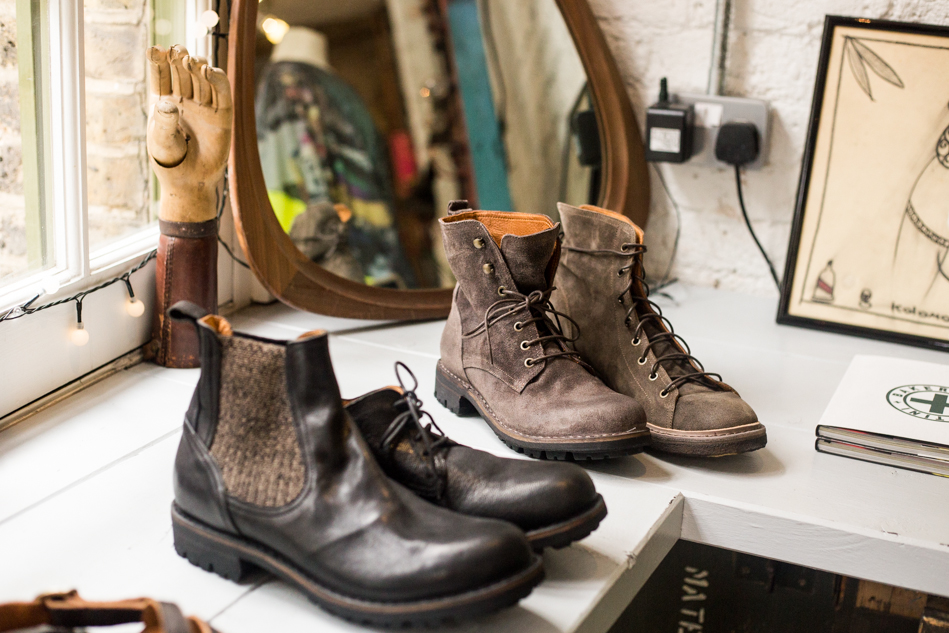 The redbrick interior of number 49 harks back to that of a former button factory that existed here in 1860. Since then it has been home to a recording studio, a strip club and the Vietnam Solidarity Campaign, in no particular order. As remarkable as that is, it's most interesting historic resident has to be the Anti-University of London, established at this spot in February 1968.
The Anti-University was a short lived yet extremely fascinating experiment in self-organised education and communal living that encourage liberal debate on topics like the future of capitalism, imperialism and black power. Amongst the grimness of 1960s Shoreditch (captured amazingly in the below video with full colour), students adhered to a curriculum that was structured into three parts: radical politics, existential psychiatry and the artistic avant-garde.
Once a hub for the intellectual left-wing of counterculture, today this landmark building is home to Fiorentini+Baker - that is the incredible beauty of Shoreditch.
A shoe label established by London born designer, Deborah Baker, in collaboration with Italian interior designer, Paolo Fiorentini; this brand specialises in high end boots that have a distinctive European suave. Though both founders are in and out of East London, Fiorentini+Baker was actually set up in the medieval town of Bologna - where the creativity behind the designs is still inspired and product lines continue to be produced by local family businesses. That sense of quality goes beyond hand-treated swatches of supple leather, smooth velvet and one-off vintage fabrics, and into the shop's vintage industrial displays and the welcoming floor service, with fashion savvy Samantha and Barbara manning the Shoreditch branch on Rivington Street.
"I really like the fact that Shoreditch is a mix: the centre has really cool, creative people and then you have the serious business of bankers from the outskirts, towards the City. There's a lot of variety in the quality of people here" – Barbara, Fiorentini+Baker employee.
The Pubs: The Bricklayer's Arms and Barley Mow

@ 63 Charlotte Road and 127 Curtain Road
Back in the day, there was nowhere else to drink except at these two pubs, so although they only flank Rivington Street with their edifices, we're giving them an honorary mention.
Barley Mow was pretty much an old geezers pub, but it holds a special place in the heart's of long term residents because the police firearms unit used to drink there - yes, you read right. And that meant the lock ins were themselves a boozy force of nature. A short hop down the road is The Bricklayers' Arms, owned at that time by Vicki Pengilley Pengilly, it was an intense combo of contemporary groove and urban blight. Jonny Woo, the alternative drag artist and high priestess of Glastonbury's Block9 arena, gave The Guardian an interview about The Bricklayer's Arms, remembering how he fells asleep at the doorway once, the lock-ins and the gay raves. He cites the golden era of the area as 1995 to 1998 when the scene centred on the pub, "a kind of mishmash – fashion graduates, cycle couriers, older locals and the tail end of the art crowd". One typically surreal moment, amongst many, saw a not entirely sober Robbie Williams and Oasis playing table football one Sunday afternoon.
The beauty of it all was the mixture of people in the crowd and that the barflies had to themselves a largely unsupervised environment, creating a wish you were there moment in history.
Material Bookstore @ number 3
Material bookstore resides on the quiet end of the thoroughfare towards Great Eastern Street. Though not as well known as its centrally located rival, Artwords, it is no less deserving of awe when it comes to its visual philosophy. With tables stacked up with indie magazines and illustrated greeting cards, walls lined with groovy gift wrapping and typographic posters, and shelves full of special edition books and rare illustrated maps: it proffers a kaleidoscope of modern design led ideas presented through quality print and keepsake products.
Working with a cherry-picked selection of artists, designers and publishers, Material offers an indoor walkabout into the worlds of their imagination - bringing them to life when it transforms into a warm, woody and welcoming exhibition venue.