Our ancestors would describe how most of us celebrated Easter as alternative: eating copious amounts of chocolate and possibly getting out of that bunny eared onesie to go on a treasure hunt or craft making course. Yet there is a beautiful way to honour tradition while remaining dependably off-beat; Shoreditch and its surrounds are home to a plethora of churches with classical interiors that have been revamped into modern day venues celebrating diversity. Join us in exploring East London's unique brick and mortar heritage.
St. Luke's: Old Street
A historic Grade I listed church, St Luke's was faithfully restored and extended to become home of the London Symphony Orchestra in 2003. One of fourteen Hawksmoor builds - a 1711 act calling for 'churches of stone and other proper materials with towers or steeples' to meet the religious needs of London's burgeoning 18th century population - it's topped by a fluted spire with a 'golden dragon' on the end, which the cockney's will have you believe is in fact a plague flea. Once part of St Luke's Hospital for Lunatics, the church is now a rehearsal / recording centre for a world-class orchestra and its incredible chamber music acoustics mean it's even hosted the likes of Elton John, Sting and Bruce Springsteen.
Christ Church Spitalfields: Commercial Street
Deemed a hazardous structure and shut down in 1957, this 18th century gem was saved by the Hawksmoor committee who stopped the diocese from demolishing it and raised funds to gentrify the interior. Services of worship are still held here, however the award-winning baroque restoration also hosts operas, wedding parties, film crews, pop act performances (Mika and The Feeling) and even a rehab centre - The Spitalfields Crypt Trust has in fact been active since 1965, before the grand reopening in 2004. The site is an oasis of calm amongst bustling city streets; comprising an eloquent stonework church, a Huguenot style chapel, and a gothic crypt running the length of the church. Pop down for seasonal salads, meats, baked bread and cakes served up by café staff, before heading off to discover the 40 historic memorial plaques dotted around the grounds.
Shoreditch Church: Shoreditch High Street
Most people don't realise they know of Shoreditch Church from the children's nursery rhyme Oranges and Lemons, referenced in the passage '"When I grow Rich" say the Bells of Shoreditch'. The church has been famous a long time, all the way back to Shakespearian times, and while Bill didn't quite worship at this exact site, the churches predecessor, St Leonard's, was his local. The original was built and then demolished in the 18th century and St Leonard's part two was built some distance away at the top of Shoreditch High Street. Now known more commonly as Shoreditch Church, it retains its theatrical links as the backdrop for BBC series Rev, starring Tom Hollander. The soaring steeple reaches 192 feet, while the exterior is decorated with grand Corinthian columns that lead inside to a warm Tuscan arcade interior, making it the perfect venue.
The Old Church: off Stoke Newington Church Street
The Old Church lives up to its name, dating all the way back to when the Domesday Book was written in 1563. The only surviving Elizabethan church still standing in London, it was built at a time when Stoke Newington was but a leafy village, explaining the church's unique country charm. Overlooked by beautiful stain glass windows, the churchyard has a long list of prominent figures buried within, including James Stephens, the chief advisor for the bill to abolish slavery. It's now the perfect quaint setting for a variety of extra-curricular events, most recently including the 'Breathe festival,' an annual celebration of our most precious element: air. Highlights included Mongolian throat singing, wind harp performances, kite workshops and meditation sessions.
St John-at-Hackney: Lower Clapton Road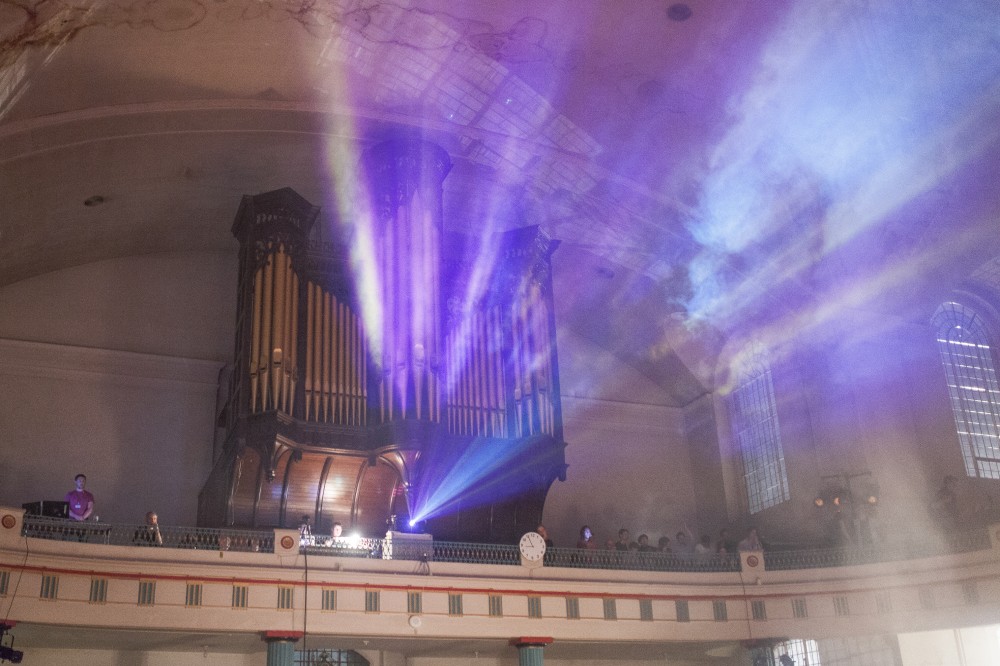 A Grade II listed setting with an adjoining churchyard and labyrinth of gardens that've been awarded heritage site status; St John-at-Hackney has been a landmark of local pride for over 200 years and it's not hard to see why. What's most impressive about the medieval Hackney parish is its grandeur; able to fit a whopping 2000 people beneath the high ceilings and dramatic lighting, luring high profile artists like Coldplay and Florence and the Machine. While traditional baptism, wedding and funeral services all still take place at the brick venue, its doors are open to diversity, with even the likes of daylight rave Secretsundaze coming through on April 30th.