With a future labelled 'uncertain' by his teachers, Maurice Brill had no idea a career in the contemporary art of lighting design lay ahead of him, let alone an award-winning agency. From The Ritz and Windsor Castle to Marble Arch and the National Portrait Gallery, his company, located on Rivington Street, has a portfolio which features some of the UK landmarks synonymous with aesthetic excellence and intelligent luminaire design.
That list of must-see sights isn't a shade on the impact Maurice Brill Lighting Design (MBLD) has made on destinations abroad, so we spoke to the man at the helm to find out more about his journey - from humble beginnings to a lucky break in theatre to staying modest at the top.
Maurice Brill, the underdog
"I was a failure at school and I was regarded as a non-starter," explains Maurice in an unexpected start to our chat. "If you can believe it, it was on the last day of school they decided to ask me what I wanted to do and I said 'Do you know, I'd quite like to be an architect.' They just looked at me horrified and said I'd probably make a very good dustman or something really quite negative like that." Despite his report cards, the signs of a remarkable creative mind were always there - Maurice would play around with wires, batteries and other electric bits, and he would paint behind the scenes; "I was winning competitions for art and I didn't even know that the school was submitting my work! Eventually they considered me for art school but I wasn't allowed to do that by my parents because that was no way for boys going into life - I'd have to have an apprenticeship."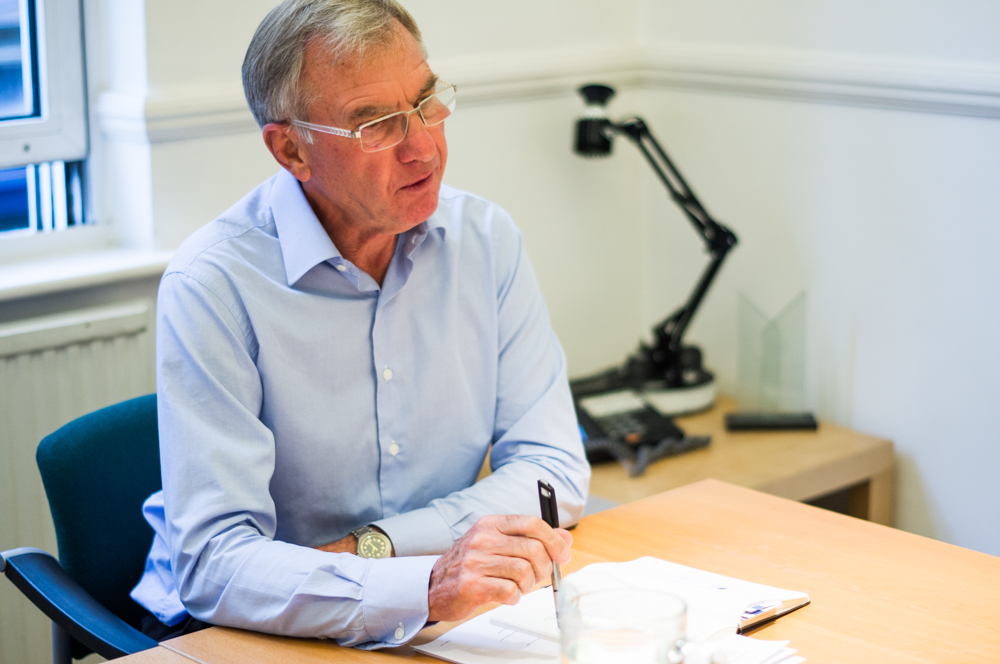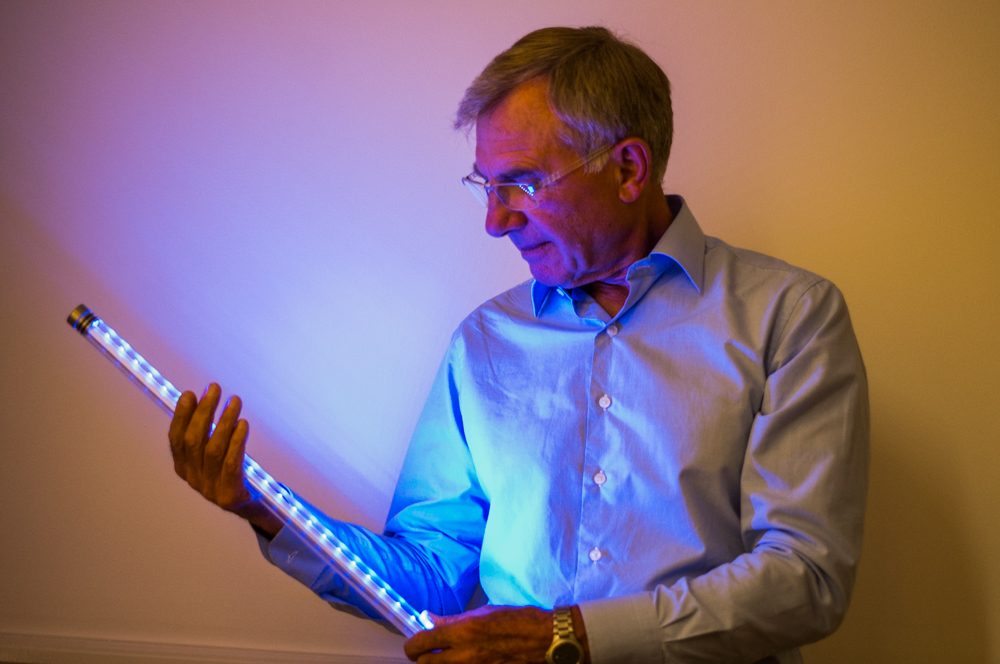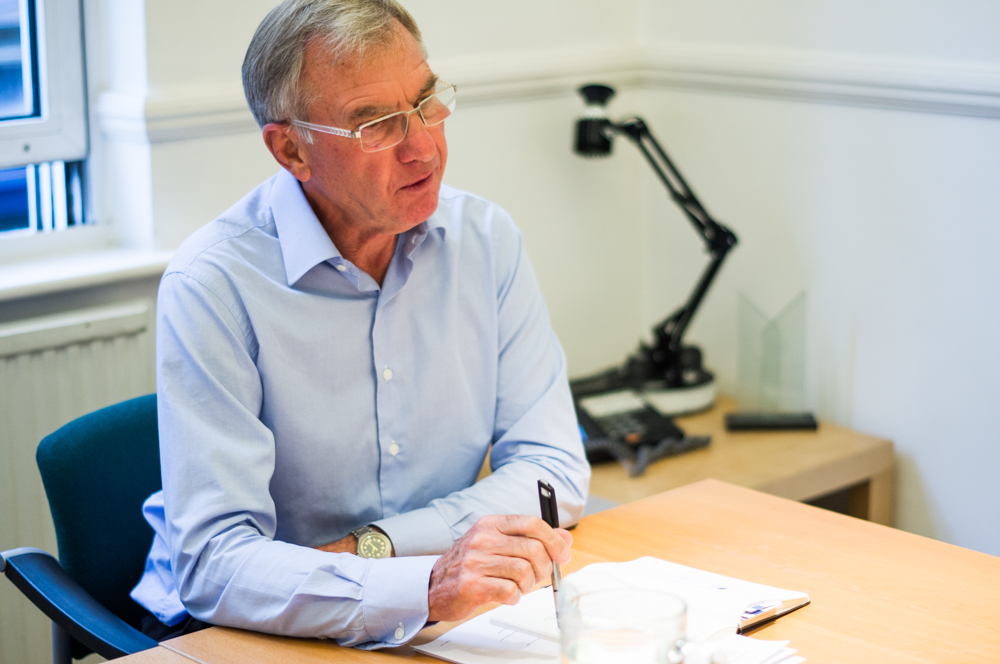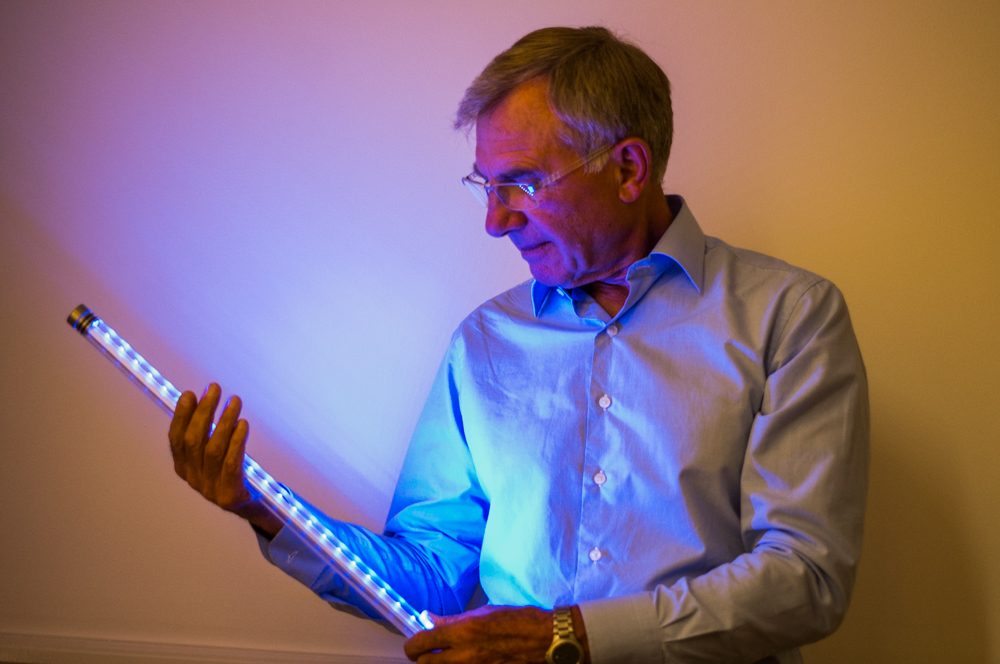 He worked as a fitter and turner in a Victorian style scrapheap workshop in Ipswich; "It was dark, it was gloomy, it was cold and I absolutely loathed it but throughout a lot of my life I have had very nice people come along - a young foreman in the workshop took a shine to me and let me do the jobs I wanted to do. So I stuck it out for a year and what kept me going was amateur dramatics - I did a little bit of acting on the side but more of the technical stuff." So he got his apprenticeship papers and wrote to ads in The Stage; "The Marlowe Theatre in Canterbury replied instantly and to cut a long story short, I joined as an assistant stage manager. It was a 1000+ seater with an attendance rate of over 90% which was absolutely incredible - very hard work but again I met amazing people who said 'Maurice you can learn stage lighting, come on we will show you.' By the time I got to my third year I was doing stuff for the likes of Canterbury Cathedral."
What happened next?
"It was exhausting; running a pantomime with 3 shows a day, day to day for 6 weeks was horrible. So in the morning I resigned, 10 o'clock in the evening I was asked to come to London to work with the Ballet Rambert." After 4 years of touring, that also became repetitive so he left to join live performance consultancy Theatre Projects where he stayed for 7 years. His first role with them was to get The National Theatre ready for the royal opening in terms of designing the technical side, the stages and the front of house. "20 years later they came back and asked me to refurbish which was a real honour - but they're also special because that's where I got to work with the first architecture lighting practice in the UK and probably in Europe, which turned out to be my launch pad for doing this. So then I finally became an independent when I started a manufacturing brand within the envelope of a company called The Lighting Workshop in Covent Garden."
When life took a dark turn...
"It wasn't setting up that was scary; the frightening part actually came when the company as a whole went from nothing to a £4 million turnover in 2 years. It got bought out and then it went totally bankrupt – and I did not know." The first Maurice heard of that was when an administrator called him; "He said 'You've got to be at your desk at 8am no questions asked.' I had to find my way with 3 children and a mortgage - I could buy myself out but I had to find all the money, so I put my house up as collateral and turned to my mates and family and did whatever I could. I should have known, there was a morning where I had 13 projects cancelled in a go." That was during the UK's first deep recession in 1988, but he mucked through and came out the other side of the tunnel with a completely independent consultancy that provides space-maximising lighting solutions for hotels, shopping centres, museums and the like.
In fact, MBLD is free of commercial relationships with any manufacturer and creates its supplies in-house, completing projects throughout Europe, Middle East, Africa, Caribbean, Asia and USA with bespoke authenticity. "Yes after that it was a bit of a struggle, and till date I'm useless in presentations - 6 people max for me. But, not knowing what I was getting into when I started the Parc de la Vilette for the French government, there I was, sitting at a table with 30 people around it. Most of them lawyers and contractors; they didn't want anything to do with this Englishman who didn't speak French coming in to tell them what to do. It was a real challenge, but it led me on to doing the Duchess of Windsor's residence which is probably my favourite project, and then eventually the Ritz Hotel in Paris."
Working on the Heydar Aliyev Centre in Baku, Azerbaijan for Zaha Hadid
"We're lucky, we've never had to do any marketing, we were just asked to bid for it and won it. We'd never worked with them before and we'd heard rumours about Zaha Hadid but her team were lovely. They came with a very positive idea of what they wanted and what you see is exactly what they wanted - what nobody knew at that time was how we could achieve it, given the volume of the space. There's nothing standard in that building - I mean the ceiling could be 3 metres at one end and 13 at the other - so there was a lot of engineering involved and at times we had computers running all weekend getting the light levels correct for emergencies and so on."
Coming back much closer to home - which is on Rivington Street - MBLD has worked with landscape firm Scape Design Associates over on Old Street, the Gibberd firm on neighbouring Curtain Road (project: Heathrow's Terminal 2) and Mossessian architects based on Hoxton Street (project: the Heart of Doha).
The technology and psychology of light
"When I started it was difficult to find equipment at all – in the theatre days we were bringing lamps in from General Electric America and designing fittings around those," says Maurice, recalling a time when low voltage technology was in its infancy here. "And then came a LED which was another big jump and is still progressing into something amazing - technology comes in rushes and all the time manufacturing is behind." Keeping one eye on reliable luminaire developments abroad, every project at MBLD has a big control system to create atmosphere, but is there a certain understanding of psychology involved in getting the mood right?
"Not knowingly but probably subconsciously. You've got to balance the contrast of lighting - if you have an office space it's not too clever to have artificial light that creates shadows, so you need to add some windows. A hotel will be a good instance where they'll have a multifunctional ballroom that will need to be blacked out at times for screenings of films or slides, so loads of loads of windows and roof lights will work against you. For restaurants it varies - in London the light levels traditionally drop as the evening goes on with the idea being that you're working towards 'brandy and cigar time', if you're in the Far East they naturally like brighter light, and in Russia they like it very bright because the philosophy there is that if you take your wife to the restaurant she is there to be seen - her diamonds need to glitter."
MBLD LIGHTS UP LONDON - EXCHANGE SQUARE, PAN PENINSULA, FINSBURY AVENUE SQUARE AND W HOTEL:

Inspiration for those light bulb moments…
"For the longest time I wouldn't even open a magazine because I didn't like to think my creativity comes from others - but I suppose your brain records a lot." Maurice is a bit of a nomad by design of his occupation and believes that somewhere deep down, his travels impact him. "I'm just building up to a month in India and then when I come back I'm off to the Galapagos Islands - something sits there and subconsciously you go 'Ah why don't I do that' and the more you go around the more you realise 'Oh I did something similar to that', so nothing is original and that's the reality of it."
"I do photography and aside from taking the insides of mosques and other interiors, I love capturing places and people in moments - I went on a train trip around Morocco with a telephoto in hand and so enjoyed getting life with all its movement and colour. Whatever you may call your God, everything we achieve in our industry it is all there in nature, and what's special is how you actually interpret that into what you do. From reflections and shadows, from light being broken up by the foliage of a tree to the way mountains catch light at sunrise - it is all there."
Advice and expectations
"To those just starting out, I'd say don't be afraid and be prepared to look outrageous with your ideas - be seen to break the rules because I've always felt those were made by engineers and not designers. And when I was in theatre, somebody said to me it is the best thing when choreographers and set designers are humble, so I guess that stuck as well." An understatement if any, Maurice is always about to help his staff if they need him and still juggles projects despite over 40 years in the business; "I can't help it. I've got a project that's been going on for 8 years which I'm hoping doesn't go on for another 8 years, but it's the largest manmade swimming pool in the world complete with all the landscape - lit up mountains and hotels and so on. That's my baby so I still oversee that, and I'm doing a bridge in Cairo. In some ways I hope I do slow down - my wife says we're never going to take another broken house and fix it which we've just done - but at the moment I can't stop being creative."