Shoreditch has flicked through fads like history is just a flip book for our perusal. But some of the East End's crazes have become cult – this 'Shoreditch Originals' series is a celebration of the landmark of our cultural heritage that we hope will stand the test of time for a better tomorrow.
What other way to start than with summer's crowning glory – fetes, fairs and festivals. Encountering bleeding-edge and downright odd modern art happenings, spontaneously losing yourself in the sweetness of unknown musical notes, and gorging on alfresco banquets of unbelievable variety is what Shoreditch has been and continues to be about.
At the time known just as Hackney, the initial landscape of the site had been a rural community of several hamlets, mostly pasture even until the 18th century, with much of it marked as market gardens. A section in the national archives called Tudor Hackney explains how this quarter of the capital metamorphosed from religiously-led to theatre-centric as it entered the Elizabethan era, focusing on the ancient parish that is still exemplar of the area: "St Leonards Church had lost its medieval images of the saints and the Virgin Mary at the Reformation...The growing population had also seen new wooden galleries added to seat more parishioners, merchants, rich and poor - and acting folk." The gradually diminishing houses of God and grand timber houses attracted companies from near and far including William Shakespeare's. With them came hordes of hungry entertainment seekers and street performers to please with not just plays but musicals, comedies, concerts, tours and talks.
This creative legacy of galas, carnivals and jamborees in Shoreditch was reignited in the 1990s by visionary art curator Joshua Compston, who organised the vicinity's most memorable event of the century. 'A Fete Worse Than Death' transformed Hoxton Square from a run-of-the-mill patch of grass into a thriving arena of artistic-royalty-in-the-making. Appearances included Damien Hirst, who while running around in his clown costume, created the very first of his Spin Paintings series which sold for the excruciating bargain of £1 per piece. Next door Tracy Emin ran her 50p kissing booth, which by 7pm transpired into 50p for 'a bit of the old in-out-in-out'. Other afternoon activities included cow pat bingo and Gavin Turk's 'bash the rat' stall. Originally a rebellious poke at the traditional British village fete, it proved to be a pivotal point in the area's rebirth with the 1993 event etching itself into history as a showcase of true and unrivalled British eccentricity.
The festival that Shoreditch has endeavoured to equal ever since, there is no shortage of competing candidates in the months to come, so come on folks! Roll up! Roll up!
Taking it's cue from 'A Fete Worse Than Death', the Art Car Boot Fair places an unorthodox, Shoreditch twist on another Great British ritual, the Sunday morning car boot sale. Except, instead of the usual dusty trinkets, ceramic figurines, rusty thimbles and mothballed vintage wear - the Art Car Boot Fair has over eighty pitches featuring just-for-the-day art works at prices that any bargain hunter would tear their pockets out for.
The fair's organisers Karen Ashton and sister Helen Hayward took their inspiration from Joshua Compston, continuing where he left off with the admirable purpose to re-inject some airy summer fun into an ever commercial London art scene.
Expect appearances from artists including Gavin Turk, Sir Peter Blake, Pure Evil, Polly Morgan and many more. The Art Car Boot Fair gives the unique opportunity for artists and art lovers alike to get those knobbly knees and pasty arms out for some fresh air away from the usual stuffy pretension of a white-walled gallery. Patrons can also enjoy a varied bill of entertainment, culinary delights and some boozy cocktails.
Access is on an invite only basis, so newcomers who wish to get their boot-on they must be invited and referred by original 'booters' to gain access to the exclusive event.
On a normal day Haggerston Park consists of buggy traffic carnage and shrieks of joy from the local softballers, but on Saturday the 14th of June it will be transformed into the venue for the epic house, techno and electro street party known as Found Festival.
Originating from the Found club night, the early 11am start betrays the organiser's passion for head bopping, dropping beats and bass pumping - finally bringing a scene that started back in the late '70s out from the underground. Those who roll out of bed to arrive early - hair ruffled, eyes blurry, stomach rumbling - will be treated to a wakeup call like no other with a 2014 line-up that includes Damian Lazarus, DJ Sneak, Moodymann, Magda, Cassy, Heidi, Anja Schneider, Bicep, Ben Pearce, Noir, Darius Syrossian, San Soda, Citizen, Ejeca, Matt Tolfrey, Darius Syrossian, Jay Shepheard and more.
Last year saw the lawns soaked in rain in typical Brit form, despite advertisers pitting the event as a sunshine fuelled day party, yet the jovial mood of the 4000 attendees and the ethereal spirit of the occasion could not be dampened. Tented areas like the Magna Carta stage ensure ticket holders aren't completely at the mercy of the heavens and two bars as well as plenty of food stalls mean the cockles will be well and truly warmed (bringing the customary wellies and an umbrella is still advised).
So, if you spend your nights hopping from club to bar to club seeking out the baddest old school and second wave records to dance to - look no further. And, if the arches of your feet haven't collapsed by 9pm, there's an after party that will have you tripping out in funky fashion till dawn the next day (separate tickets required); with DJs, artists and soundtracks all paying apt homage to the musical DNA of Shoreditch.
Known for its 'creative types', Shoreditch is unsurprisingly home to the Rivington Street Festival - a family friendly, and most importantly, free event showcasing the raw skill, inspired vision and artistic expression that underpins all of the area's industries.
The day is all about a diverse collective of artistic explorers, dreamers, thinkers and leaders connecting with each other, residents and the general public at street level, so it's 2014 World Cup inspired theme suits to a T - carnival is coming to Shoreditch!
The 22nd of this month plays host to two open air stages providing an eclectic backdrop of live music and beat dropping DJs respectively from noon till 6.30pm - with the first offering up unsigned talents such as Franko Fraize and the latter including the touring Reggae Roast co-op, previously graced by the presence of David Rodigan.
Citizens and pilgrims to the bricklayed lane can also roam a bustling market of local designers, jewellery makers and arts/craftspeople curated by the much loved trading collective TogetherTheyCome - with a pop up salon and costume boutique promising to be highlights this year.
If you're not up for embracing your alter ego with wigs, masks, glitter sprays, wings, moustaches or other props (really? None of those?), then there is always the hospitality of the homegrown businesses that line the local corridor, with special programmes set up by native favourites like secret crêperie Shutterbug and iron deco bar Strongrooms.
Expect multicoloured bunting overhead and streaks of yellow and emerald in the skies, grilled meat aromas wafting up the nostrils and curbside instrumentals pricking up the ears, as Brazil's colours, sounds, curiosities, spirit and tastes take over the epicentre of the neighbourhood with not a dull moment to be had.
Every Saturday night the harmonious cracking of oyster shells, sizzling of homemade burger patties, and gurgling of local beer drowns out the usual hum of Shoreditch High Street traffic. The mundane concrete grounds of the Euro Car Park are reclaimed by a rainbow of street food vans in the varying forms of converted tuk-tuks, horse-boxes and Italian Piaggios.
The fest draws foodie crowds in their hundreds to not only treat their taste buds but to satisfy their thirst for live music and appetite for art. Whether you're craving the lighter delicacies of exotic world cuisine in the form of Korean Ramen burgers, Chinese Jian Bing crepes or South African bunny chow; or if a meat feast is on the cards (try the untested with the likes of Peruvian Meat Skewers, and for those feeling daring, the Louisiana frogs legs!), this place is lip smackingly unmissable.
Veggies will also leave with a tummy full of flavour thanks to UFF's dedicated 'V corner', which offers a range of veggie, vegan and raw vegan goodies every single week. Sweet tooth delights on offer include French macaroons, tea and crumpets, or some Twirly Whirlys from the vintage sweet shop. All is washed down with some locally crafted beer or a cocktail shaken up, not stirred, by professional mixologists.
The entertainment is just as varied as the food, with everything from live music from the best up-and-coming acts that the locality has to offer to a selection of contemporary street art, photography and design. Urban Food Fest offers all of the necessary courses to make a delicious Saturday night - the original proved to be so popular that they decided to put it on every single week until the end of summer. Bon apetit!
The most modern incarnation of the festival, Shoreditch Design Triangle brings the 21st century twist of technology to the table. A one-off week of designers, manufacturers, stores, galleries, studios, cafes, publishers, bars and brands showcasing, or showing off, their diagrammatic or symbolic logos, structurally or visually striking blueprints, graphic or pictorial drawings and ceramic or sewing patterns.
Whatever it is, it's here, at this most epic of pop-ups.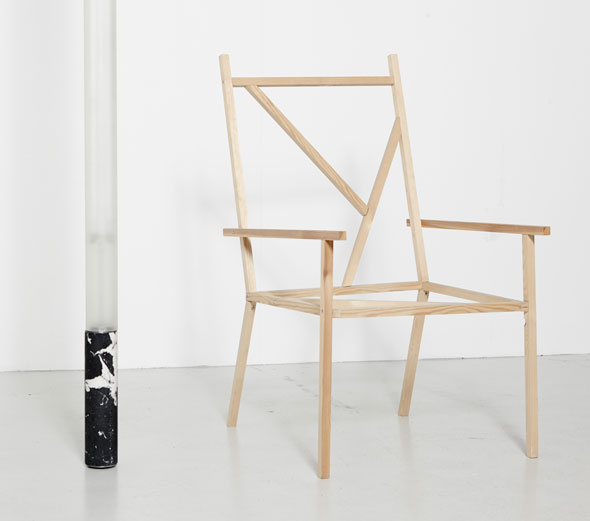 Uniting every nook and cranny of the community, this area-wide affair binds native industries together in renders, vectors and handspun wristlets with collaborations abound. Last year saw everything from the typical artisans to the most niche of entries participate; with the pasta factory workshop of Burrio E Silvia and the peppercorn fragrance expo of Perfume, Sir? reflecting the unconventional quality of the locale that runs through its very fibre - whether it be its stone, tarmac or citizen.
Running from the 13th to the 21st of September, alongside the London Design Festival, this essentially extended exhibition rounds up the summer in seriously well laid out style, and is once again expected to put a proud smile on Shoreditch's hopefully spectacle clad, less pasty faces.