To most Londoners, the end of spring and the start of summer brings sun-hazed days, the waft of a tinfoil barbecue caught in a soft breeze, and the united mission to soak up every single rare moment the blue skies decide to make an appearance - all of course with a glorious mouthful of strawberries and cream. It also means festival season is upon us as we are finally blessed with the ability to spend more than ten minutes out in the fresh air. While London provides an exciting agenda of activities, as per usual the east is the vanguard of alternative entertainment. So here's a curated list of jamborees and fiestas in 2015, celebrating music (a must of course) and so much more (foodies and creatives take note).
Land of Kings
Dalston/London Fields: 3rd May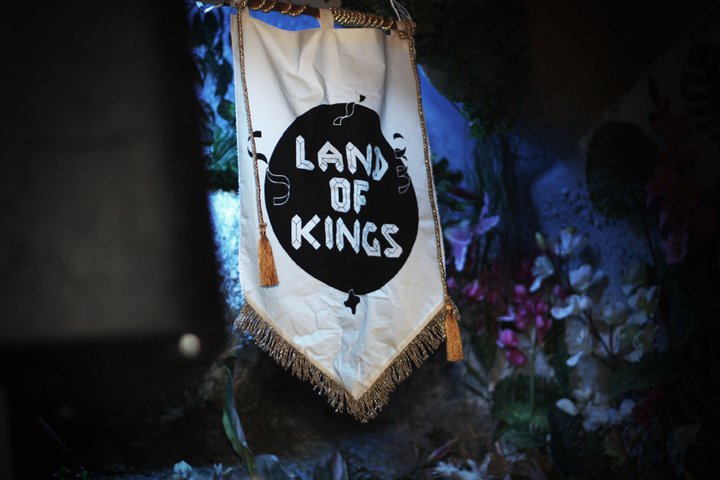 The hippest festival of the year is back in town. Schmooze with the coolest of the cool as they weave their way around the Land of Kings, a multi-venue one-day festival at the cutting edge of electronic music where culture creatures are granted access with a wristband and let loose with a map in hand.
The lineup this year includes big cojones like The 2 Bears, Moxie, Psychemagik, Krankbrothers, as well as innovative sounds from the likes of Nathan Fake and Koreless, as they perform across Dalston's most unique performance venues including loft parties, forgotten school halls, banqueting suites, art galleries and secret gardens - all with the added bonus of not needing wellingtons to tackle festival mud.
As well as the banging sound systems, there's a full package of alternative entertainment for the burgeoning masses; interactive art exhibitions, film screenings and immersive live theatre shows like The Austerity Games, which takes punters into the surreal depths of a war bunker for a mysterious series of 'random encounters'.
East London Comics and Arts Festival
Hackney's The Laundry and SPACE: 20 - 21 june
www.elcaf.co.uk
Get your colouring pens ready and let your imagination loose, because the 4th East London Comics and Arts Festival is here. On the 20th and 21st of June the design elements of comics, graphic novels, sequential art, illustrations and storytelling will be celebrated in style with an extended programme of events; including workshops, talks, a new roster of masterclasses, a satellite exhibition and of course, the fete. Tote bags and walking shoes recommended - shopping is a given.
Setting up in some awesome open spaces in E8 (The Laundry and SPACE), festival doors will open to London Field locals and visitors from 10am to 7pm, with tickets at just £3 a day or a fiver for the whole weekend – kids under 16 go free. You'll have the chance to pick up bargain art prints that nobody else has up in their corridor yet, chat to the creative minds behind the masterpieces, and participate in a programme that will feature skilled artists, indie collectives and small press publications. Guest DJs will keep the music pumping and there will be a café for snackage.
A gathering that by nature is unique in its every iteration, this year's unique identity comes from graphic-artist-in-residence, Jillian Tamaki (check out the poster above). Award-winning illustrator of This One Summer, Tamaki's watercolour brush strokes and black ink pen lines are freestyle in form, shaping a sense of wild wonder that we expect will be echoed when exploring ELCAF 2015.
The London Coffee Festival
Truman Brewery: 30 April - 3 May
Shoreditch, the undisputed capital of coffee, will showcase its very best roasts at the Truman Brewery this mayday weekend. The London Coffee Festival is set to be the biggest event of its kind with over 22,000 coffee lovers and industry professionals expected to attend.
The round up of caffeine fuelled events includes the first ever 'Coffee Masters' competition, where battling baristas will compete head-to-head for a £5000 cash prize and the title of undisputed coffee master 2015. Elsewhere, industry leaders like Union Coffee will be on the grind showcasing their award winning flavours and holding an amateur tasting competition, where competitors test their palates on delicate coffee notes like citrus berry, nut, floral, chocolate and even umami for the chance to receive one of Union's connoisseur coffee gift collections. Popular brand, ThreeSixty, will give punters the opportunity to recreate the Shoreditch coffee scene in the comfort of their own home, teaching their trade secrets at the Make Decent Coffee Lounge.
The festival will be decorated by The Coffee Art Project which presents work by emerging and established artists. Each original piece will depict a creative, unique and personal connection to the concept of 'coffee' or a 'coffee shop experience' in the form of video, photography, painting or sculpture, some made from conceptual media like teaspoons and coffee beans.
 
Street Feast
Dalston Yard: 16 May - 27 Sept
Every Friday night starting May 16th, Street Feast brings together a world of tantalising street food and packs it into a rustic Dalston courtyard. The weekly food festival is an overload of alluring smells and a beautiful assault on the tastebuds, providing the perfect opportunity to grab a group of gastronomically inclined besties and fill your bellies with some of the most extraordinary dishes that could possibly come out the back of a van. With the added bonus of affordable prices, some of the most tempting creations include Korean burritos from Kimchinary, Taiwanese buns by Bao London, crispy fried chicken from Spit and Roast and succulent burgers via Mother Flipper.
As well as the eat-on-your-feet experience, there are pop-up diners that have seating on a first come basis, including the likes of B.O.Bs Lobster, which puts an americanised twist on the seafood delicacy and Pizza Pilgrims, famous for their rustic woodfired pizzas. Once faces haven been stuffed and the clock strikes drinkin' time, there are watering holes selling specialist gins, locally brewed ale and tequila in a treehouse to merrily wash down the indulgence.
What really makes Street Feast special is the atmosphere; a week after week celebration of foodie passion that extends from the vendors - many of who quit their office day jobs to cook authentic street food - to the happy diners that munch, crunch and lunch on the delicious results of a realised dream.
Digital Shoreditch Festival
Shoreditch Town Hall and Surrounds: 11 - 24 May
The mission of the annual Digital Shoreditch Festival is for creatives, techies, entrepreneurs, investors and businesses to discover the digital community in East London and connect with one another. Established in 2011, it is quickly making a name amongst the European circuit and expected to attract over 15,000 attendees this year. This time round themes include MakerTech, Intelligent Devices and Smart Cities, DIY and Hacker, Space and Incubation, and Funding and Fintech.
The event divides into two separate weeks; the first based in Shoreditch Town Hall and the second taking an 'open house' approach where local businesses will host their own events. The huge audience will be in store for a treat with over 350 speakers including HERD brand man Mark Earls, advertising guru Rory Sutherland, Blippar co-founder Jessica Butcher and Softwire chief executive Zoe Cunningham, as well as various savvy workshops, tradeshows, tech tours, debates and exhibits to attend.
Digital Shoreditch Festival co-founder, James Allsop, foresees that the festival will "bring together thousands of the very best talent from London, Europe and afar, for a huge two-week celebration centred right in the heart of East London."
Spitalfields Music Summer Festival
Spitalfields: 2 - 16 Jun
Showcasing local talent for local people; bringing the musical community together to engage the body and mind is part of the mission for Spitalfields Music Summer Festival. There is a diverse schedule of symphonious performances and immersive events taking place in and around the surrounding area of Spitalfields, from live acts and DJ sets to poetry and art showcases.
Highlights from the action packed calendar include actor, Michael Pennington, who will read a selection of English poetry from the likes of John Donne, Christopher Fry and WH Auden, set in a beautiful 18th century house. Handel's Israel in Egypt will be staged in the stunning surrounds of Hawksmoor Christ Church Spitalfields, retelling the biblical story of the ten plagues that fell on Egypt. The Royal Academy of Music will play in the urban oasis of the Geffrye Museum in a three part musical reflection inspired by one of East London's most treasured historic buildings.
If it's quirky you are after, saxophonist Shabaka Hutchins will present his new work along with guest artist Jason Singh; inspired by the locale, they will subvert the traditional ideas of how meaning is given to sound. And The Little Weaving Opera promise to blend musical drama with the art of weaving, using the rhythm and feel of opera, electro and folk to live weave.
The East End Film Festival
Multiple East London Venues: 1 - 12 July
www.eastendfilmfestival.com
Once upon a time, the East End Film Festival was known as Raindance East. Now in its 14th year, it's come far from its origins as a Tower Hamlets Council project. A carnival of talent discovery scattered across venues from EC2 to E20, several of its showcased films have gone on to win international acclaim. Guests have included the likes of Danny Boyle (Slumdog Millionaire, Trainspotting); garnering unprecedented interest with an estimate of approximately 30k attendees each year.
Local and global talent add their voices to the cinematic storytelling platform, championing international cinema and the East London filmmaking scene, while visitors are challenged to develop their artistic consumption through mould breaking works. Adding another dimension of creativity and culture to London's most dynamic quarter, audiences remain engaged with a diverse range of seventy or so film screenings, several short film viewings and a cross-arts/multi-industry programme including masterclasses, pop-ups and immersive events such as live soundtrack performances. A multi platform event, there are also music, youth, industry development and family oriented programmes in the line up.
While submissions are still being accepted, we're looking forward to the EEFF awards which honour Best Feature; Best Documentary; Best UK Short Film; and the EEFF Short Film Audience Award. Whether you're a true film buff or a just a popcorn lover, this is one to watch out for.
Citadel Festival
Victoria park: 19 July
Www.Citadelfestival.com
With a tagline that describes it as "a new festival celebrating the summer Sunday pleasures" plus headliners like Bamboo Bicycle Club and Ben Howard, how could Citadel not be on our list? This year will be the first iteration of the Lovebox organiser's curated one-dayer, so we only have their word to go by and have to admit curiosity has got the best of us. The excitement that comes with something original is electric, and it's that concept on which East London is built, after all.
July 19th promises a handpicked diary of "musicianship, feasts, markets and literary talks", destined to attract droves of creativity consumers and lifestyle seekers from the locale and outside the east. With six stages to check out, the festival proffers the alternative likes of an art studio, craft activities, wellbeing experiences, spoken word performances and fine dining adventures along with a great indie lineup.
Expect sparkling rays of sun (only joking, but one can hope), flowing drinks to let the fun times flow, VIP toilets to let them out in an especially sanitised environment (wristband required), as well as the natural splendour and historical artefacts of Victoria Park. A beautiful 86-hectare grassland known as the People's Park, this wild and wonderful open space offers exploration beyond the day's programme. At 55 quid a pop for a day, this isn't the cheapest or the most expensive, but it is brand spanking fresh and in an idyllic native backdrop.