Stuart Edwards rocks the happy-go-lucky vibe, wearing his bubbly character like a perfume, enticing those around him. It was probably his easy-going personality that allowed him to flee the bookkeeping industry for the wine trade, uninhibited by the fact that he'd spent his education qualifying as an accountant. Having met his partner Brian Towe on that journey, they are now co-owners of wine retail business, The City Beverage Company.
Its Bow warehouse is a distribution centre of swills, handpicked by the twosome on trips to commercial growers, cult grape producers and family vineyards around the world. On the other hand, the Shoreditch window-shop stocks an abridged collected works in its small cellar for residents to savour.
The shelf space there is shared with select coffees, teas and beers carefully sourced from breweries, some of which are right on their doorstep, which has been well-frequented since 1982. Stuart reveals what goes on behind the threshold of this East End favourite and its appetite for community integration…
"Our duty manager has a great interest in brewing and a personal relationship with London Fields, Beavertown, Brew Dog – you name it. So we stock all of those local ales and once a month we do a tasting of six or seven beers and then two gins afterwards."
It's quite literally transparent that The City Beverage Co supports the success of its neighbourhood. The shop window currently showcases the design work of a local artist, who paints faces on bottles in collaboration with a Pitfield Street company called Mr. Sykes, to a naturally immense Old Street footfall.
"We talk a lot to people, and we talk to other businesses. If you're nice, people are nice back to you," says Stuart. They've fostered relationships with the likes of Rivington Grill, Tramshed, The London Apprentice and the owners of Common Bar – whether it's supporting their license, collaborating through pop-up shops or holding a wine party at the venue.
Stuart has often had to draw on his childhood actor training when hosting, recently using his calm, diaphragm-deep voice to rein in a group of forty American-Italian lawyers. He seems starkly different to Brian, who fleets quietly in and out of the interview, overseeing a delivery or something similarly imperative. "Oh we're always at loggerheads! I think when we source products, very often, he likes things that I don't and vice versa. So it actually brings a breadth of taste to the shop," explains Stuart. "Brian is into big, round and fruity. Whereas I go for things that are much more austere with a little bit of a backbone, more tannin. We meet on champagne."
I ask him whether he thinks a person's choice of wine reflects their nature, he ponders and provides an interesting insight into the tradesmen and women behind the bottle; "I think very often it reflects the personality of the producer. That's certainly true. We have a supplier in Languedoc-Roussillon and he is a bon viveur, bless him! He's six foot odd, he probably weighs about twenty stone and he makes the biggest, rounded, Syrah-based wines you've ever come across. And then I can think of a Claret that I absolutely love that's made by this very thin, pinched-faced man in a city called Tresses near to Bordeaux, and he certainly reflects the nature of those dry, dark, red wines. They say when you buy a dog you start to look like it."
Though sometimes, unfortunately, people aren't that easy to read; "We had a young couple in about eighteen months ago - they wanted six bottles of something that we had only available for wholesale, so I gave them part of a wholesale order we already had in and replaced those later. We got chatting and I mentioned we do a free wine tasting on a Friday night and that if they gave me their email addresses, I'd add them to the invite list. And all of a sudden the chap said 'We never give our email addresses to anybody!' I glanced down the shop and the staff were all smirking, so I didn't say anything, I just took the bill and paid it off. And then they told me - it was Kiera Knightly and her boyfriend!"
The free wine tasting session invites go out to around 6000 email addresses every week, personalised to each individual in the effort to renew acquaintances with buyers who live around the block or further away in places like Paris, New York or Hong Kong. That ethos of attentive customer care long runs through the fibre of this original Shoreditch enterprise; "We've tried to give that old fashioned service from the start - you put yourself out there for the customers. You don't just say 'Oh I'm sorry, no we don't do that.' No is a forbidden word around here. My father used to say, there's more ways to skin a cat than just one, and that's true – we'll always figure something out." The timeworn philosophy matches the interior, but walk-ins like the quaint, oblong shop just the way it is; "We did actually look at revamping so we put the plans up on an easel for the customers to see, and we virtually had an armed insurrection because people didn't want to change it."
There's no doubt that The City Beverage Co and its clientele have gotten comfortable in their romance, with fermented grape juice available in ridiculous varieties; "There are some really seriously good quality and value wines out there between £6 and £10. Also, that sort of £20-£30 mark is quite vibrant at the moment with a lot of Australian and New Zealand wines in that area nowadays. And then we carry wines that are £200 or £500 - so we have got a serious top end for people who want it."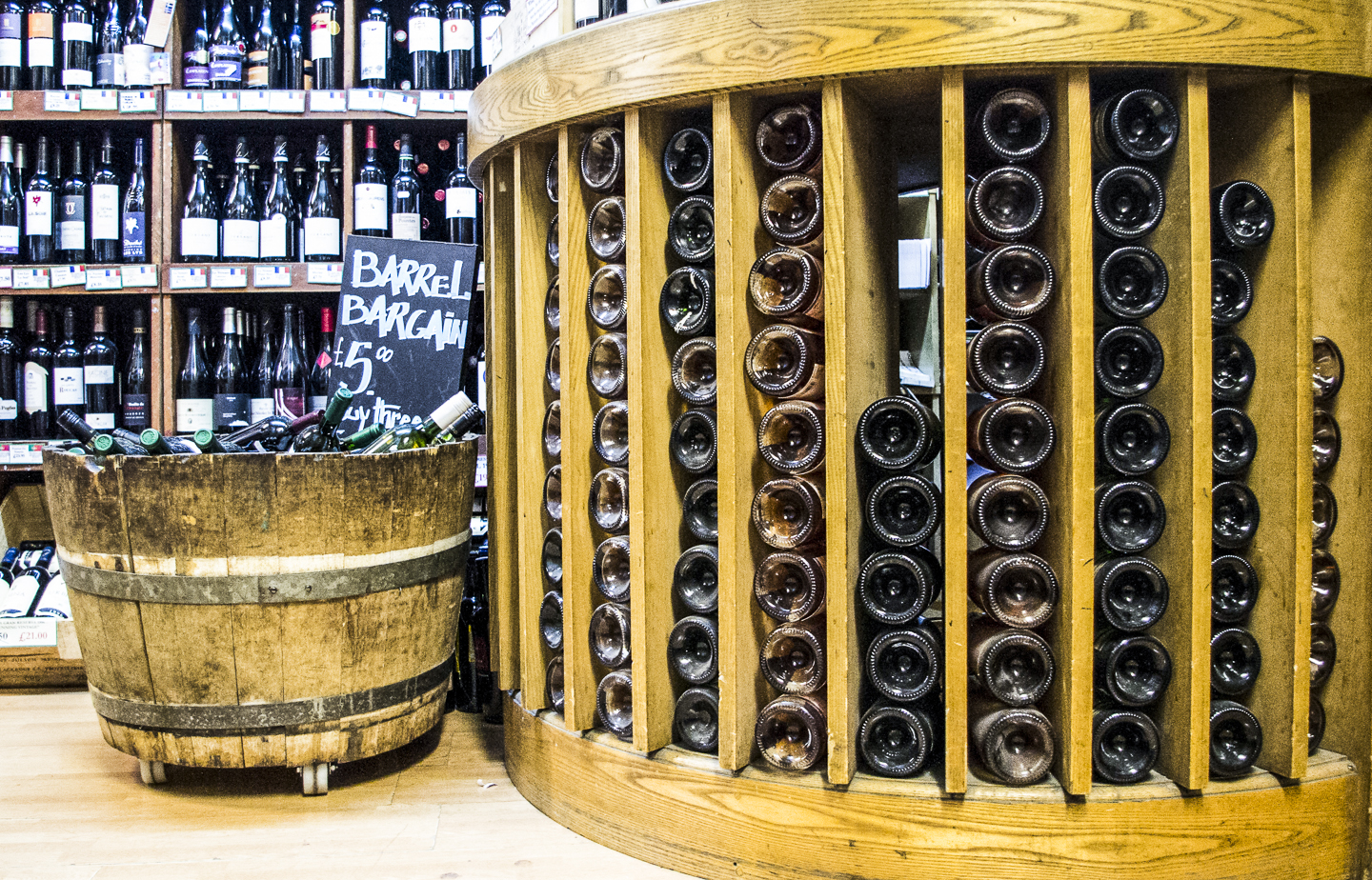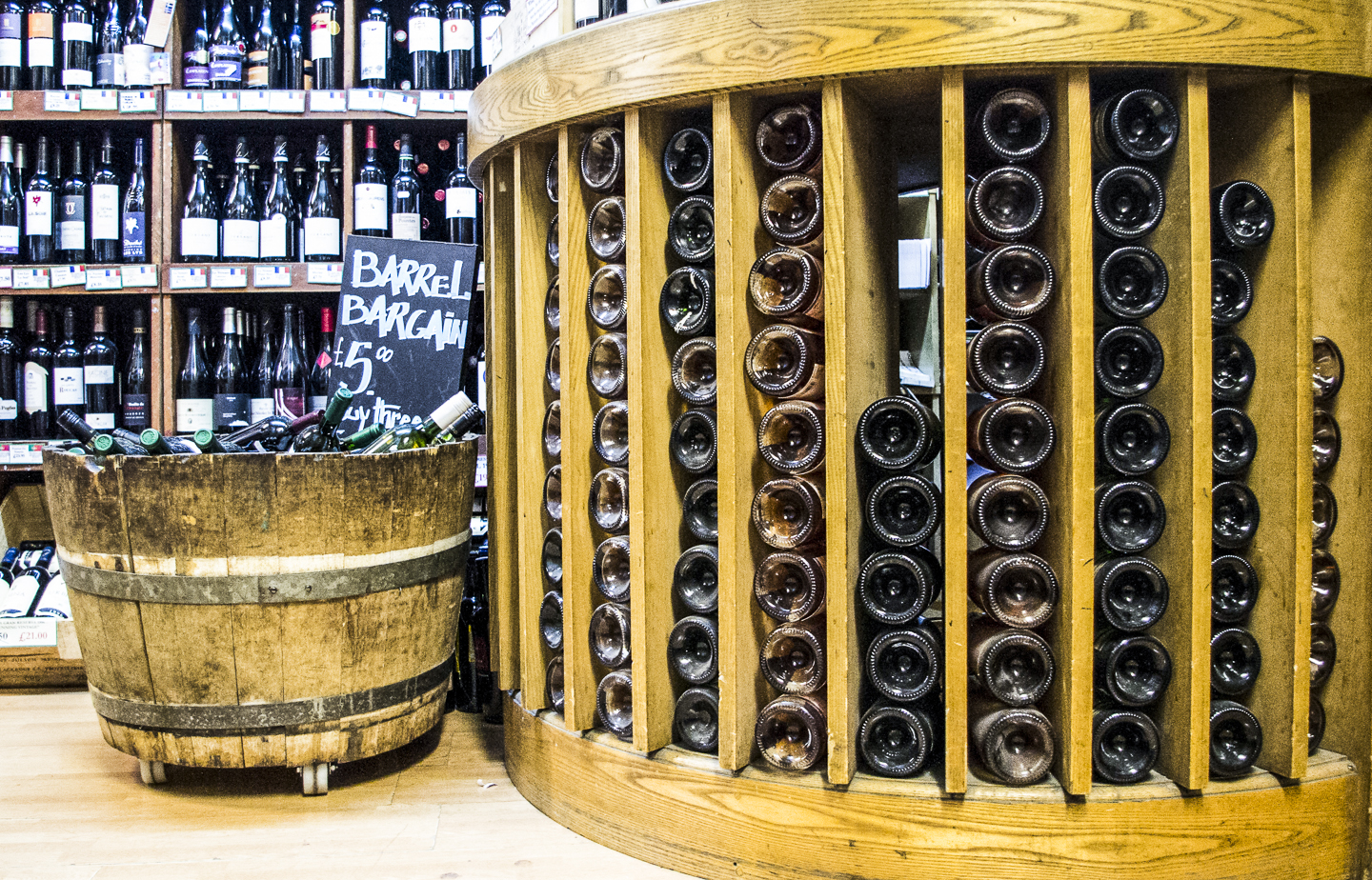 I get the feeling Stuart has a story for every blend, so I ask him for his favourite. He informs me that's impossible, so we narrow it to his favourite right here, right now. "We found some organic Primitivo red wines when we were out in Napoli, Italy and they are just delicious. Then we work with a company in Luxemburg who make the most wonderful rosé - 100% Pinot Noir. The white Fiano from Salento that we tasted last night was just amazing. And our new house champagne - Charles De Nuzia from a place call Dizy in France – it's taken three years to find something like that."
A simple red, rosé, white, champagne list - I thought that would have been harder and though that was relatively straightforward, there is some madness in Stuart and Brian's method, who like to throw some less celebrated labels and provinces onto their stock list. British representatives like Nyetimber sparkling and Chapel Down wines make the cut, as well as those from those from helpfully more exotic climates; "As long as I've got that price value and quality, it doesn't matter if it comes from outer-Mongolia. I had some Tannat from Uruguay yesterday and we will be adding that to the range. Some of the Highlands of Kenya, the south-eastern part of India, and China, Burma and Vietnam are producing some really interesting wines right now."
It's this extensiveness and specificity that's secured them a place in a sea of supermarket 'Simplys', 'Extras' and 'Locals. "Cheap champagne tastes like battery acid; I tasted one from Asda that was £9.95 and fortunately the car battery needed topping up. It was so young it shouldn't have been out on its own."
Though beneath the humour is an earnest yet reformist message for us all to sip, swirl and swallow; "In order to get continuity these companies doctor the wines with acidity, using sulphur acidate instead of drawing the flavour out of the lees - basically bits of the skin and dead yeast that should rest there during fermentation. It should take at least two to three years. Just because you're using new techniques, it doesn't mean to say that you produce crap. There are just so many great wines, there's just no excuse for people to drink bad wine."
The City Beverage Company have been tenants of The Estate Office Shoreditch since 1999.